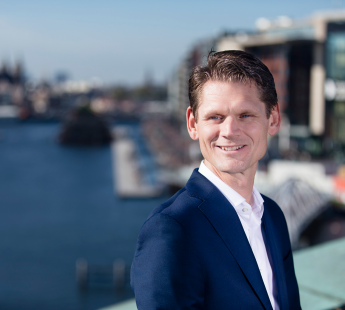 Marc Wolthuis RM MRICS
Makelaar commercieel vastgoed, Partner
Introduction
Marc Wolthuis is a strongly client committed, commercially driven personality. With his sensitive feeling of team spirit and his focus on the results the long term partnership is guaranteed. Marc always takes responsibility for helping the client to the desired situation. With his leadership, entrepreneurial approach and enthusiasm, he will deliver and make the projects a success.
Area of expertise
Marc Wolthuis is since September 2015 shareholder and partner in KRK v.o.f.. The company is part of Dynamis and responsible for Amsterdam area and province North-Holland. Marc is also member of the investments department of Dynamis. Until August 2015 Marc was director at Colliers International. He joined the firm in 1999. His experience has a wide range. Because of his knowledge Marc did many transactions in a wide variation of factory's, warehouses, offices and sale and retail.
Marc is a highly recommended advisor in real estate. Marc has studied Economy and Management with the specialization Real Estate as well as Architecture and Engineering, which makes him a knowledgeable partner in new developments, sale strategies or optimizing your real estate portfolio. Because of his experience his designed strategies will reduce risks and deliver results.
Business background
Since 2016 is registered at the NVRT which is a new register for Valuators in The Netherlands.
In 2013 Marc became a Member of the Royal Institution of Chartered Surveyors (RICS), which underlines the ethics and professionalism in Real Estate.
Marc is also member of the Dutch Association of Real Estate Agents to deliver his services against the highest standards in business.
From 2009 – 2012 Marc was one of the examiners of the trade organization of Real Estate (SVM/NVM) for new brokers on behalf of the appeals for brokers and valuators in The Netherlands.
Marc worked in his parents' bicycle store from the early age of ten, and kept doing so during his studies. Business skills and an entrepreneurial approach is a family matter.
Professional accomplishments
Marc initiated the report "We're Amsterdam", together with the municipality of Amsterdam and the local tax departments. We're Amsterdam was the most detailed research report in the Amsterdam Metropolitan Area.
Excellent business development, negotiation and management skills.

Team player, service-oriented.

Broad experience of training new (junior) brokers;

Feasibility studies for real estate developments;

Keen interest in internet technologies, websites, application development and online business;

Social media understanding and a clear view for business purposes;

High knowledge of IT and (mobile) communications (responsible for IT at KRK);

Born and raised in Amsterdam, married – 2 daughters;
Sports
Player and member of AFC Ajax Amsterdam, scuba diving, skiing, tennis, golf, running and other sports.